The construction industry is increasingly concerned about the environment, due to the consumption of natural resources as raw materials and the waste of residual materials throughout the life cycle of construction products.
Soprema have set out to directly address the source of the problem, taking advantage of the potential of recycled materials. The current XPS production process paves the way for a new generation of greener products, both in terms of supply and end-of-life. Additionally, the use of recycled materials reduces the carbon footprint of construction products while reducing our dependence on fossil materials.
At SOPREMA they have reduced the use of fossil raw materials and complying with the 4R principle : Reduction, Reuse, Recycling and Recovery.
1. First of all, what does "recycled content" or "recycled material content" mean?
These are generally transformed materials to be reintroduced into a production cycle for the manufacture of new products. Typically, this process prevents these materials from being sent to landfills or used for other, more polluting recovery purposes.
2. Did you know that plastic n ° 6 (polystyrene) is recyclable?
Glasses, plates, trays for vegetables, meat and fish, protective containers for food, electronic devices, household appliances, and in general, expanded polystyrene or extruded polystyrene packaging. These are some examples of polystyrene objects that are recyclable and, since they belong to the # 6 family of plastics, they represent the majority of recycled polystyrene in the Soprema's XPS manufacturing process.
The sought-after polystyrene (PS) materials come primarily from food or protective packaging and containers made from extruded (XPS) or expanded polystyrene (EPS). The fact that the material may be contaminated with food residues is not a problem.

Due to a lack of consumer awareness and since most recycling facilities still do not collect them, polystyrene materials, while recyclable, tend to end up in the rubbish.
3. How does SOPREMA recycle polystyrene?
SOPREMA works with companies that seek to recycle their polystyrene waste.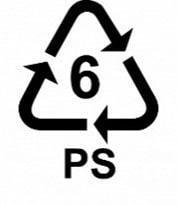 ARRIVAL OF RECYCLABLE POLYSTYRENE
The recyclable materials arrive at the plant in the form of briquettes or melted, which facilitates their transport.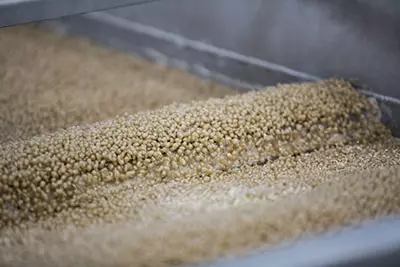 POLYSTYRENE RECYCLING PROCESS
These materials are crushed and transformed into small plastic balls through our production line dedicated to the recycling of polystyrene. This is the extrusion process by which the recycled polystyrene pellets are obtained.
BLOW XPS PRODUCTION
Soprema's XPS thermal insulation boards are manufactured using an extrusion process. The recycled plastic balls (recycled polystyrene pellets) are mixed and heated with additives in the extruder. Next, recycled CO2 is added which acts as a foaming agent.
RECOVERY OF RESIDUAL MATERIAL FROM THE PRODUCTION PROCESS
Non-conforming products or even waste generated during the cutting of the insulating panels are systematically recovered, that is, they are reintroduced into the manufacturing process to avoid their waste.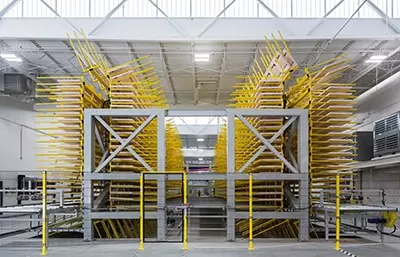 4. Did you know that the XPS plant has zero waste as a goal?
The XPS plants of the Soprema Group aim to achieve zero waste in their production process. As part of an eco-efficient group mentality, the manufacturing process is designed to minimize losses at source and efficiently reintroduce waste into the production cycle. In addition, industrial ecology in the form of exchange and collaboration with various external partners promotes recycling and recovery of waste materials.

5. Did you know that SOPREMA'S XPS products are recyclable at the end of their useful life?
The waste materials generated in the works, as well as the products that reach the end of their useful life, are recyclable. XPS products are now identified with the plastic classification symbol # 6 to promote recycling.
ABOUT SOPREMA'S XPS
XPS IS Soprema's extruded polystyrene thermal insulation range with more recycled content and eco-responsible throughout its life cycle. XPS is used for a wide variety of building applications such as: facades, floors and roofs; as well as in civil engineering and industrial applications.

SOPRA XPS is 100% recyclable and an example of a circular economy in all its manufacturing processes with a recycling technology that allows:
• Up to 100% recycled
• "Zero waste" production factories
• SOPREMA'S XPS is recyclable at the end of the building's useful life