The Sustainable Loft Insulation Product You May Not Know Exists.
November has rolled around again with darker nights drawing in and colder weather starting to be felt with central heating systems are rattling back into use. For many this is the time to consider upgrading the insulation in their home to try and reduce those bills.
PAVAFLEX is a carbon locking insulation material that is:
Easy to install
A natural renewable, recyclable resource – made from industry waste wood
Environmentally friendly
Beneficial heat and sound insulating properties
An ecological alternative to conventional insulation materials
Pavaflex is a flexible wood fibre insulation batt that is perfect to fit between timber studs, roof rafters and loft joists. The design and flexible nature of the batts mean they are adaptable to fit a chosen area, they can compress to friction fit between stud work meaning they fully fill an area and is very resistant to slumping or sagging over time due to its high density.
Truly sustainable – Made from waste wood Pavaflex insulation promotes a responsible use of natural resources, low energy use and a positive CO2 balance. Thanks to the natural constituents, Pavaflex products at the end of life can be recycled, composted or even incinerated for energy production.
Thermal protection in winter – Due to their low thermal conductivity, PAVAFLEX prevents energy loss. Cosy heat stays in the house, the energy to heat a property is lowered and costs are noticeably reduced.
One of the biggest benefits of PAVAFLEX in comparison to similar between stud/joist/rafter insulations is its performance in summer as well as the winter thanks to its high thermal storage capacity. PAVAFLEX can store heat through the day and release it later in the cooler night-time hours. This helps to keep rooms pleasantly cool, especially on hot days.
PAVAFLEX is also highly vapour-permeable (Breathable). Vapour can escape through the building fabric to the outside. Constructions with PAVAFLEX and woodfibre boards are more resistant to damage through trapped moisture as this is allowed to escape the construction through the vapour permeable materials.
Sound protection – Thanks to its high specific weight and porous fibre structure PAVAFLEX insulation materials protect effectively against noise within your four walls. Interfering noise is kept outside and you can enjoy a quiet indoor atmosphere.
Why is woodfibre insulation so good at locking carbon throughout its lifecycle?
Trees capture CO2 from the atmosphere and store it as carbon.
Mature trees are harvested, their carbon is captured and stored in buildings and other wood products.
More trees are planted than felled, and the size of the European forest carbon sink continues to grow.
Using sustainably sourced wood instead of other materials saves CO2 emissions, both through the carbon captured and stored in the wood product and the avoidance of alternative CO2 intensive materials.
One of the simplest ways to capture carbon and reduce CO2 in the atmosphere is by increasing the use of wood in construction.
The below graphic demonstrates the how many KG's of CO2 are produced per m2 of insulation to achieve a u-value of 0.15. As you can see woodfibre insulation locks up CO2 whereas conventional insulations contribute to the Global Warming Potential of the building they are installed in – original image and data can be found at the The Construction Materials Pyramid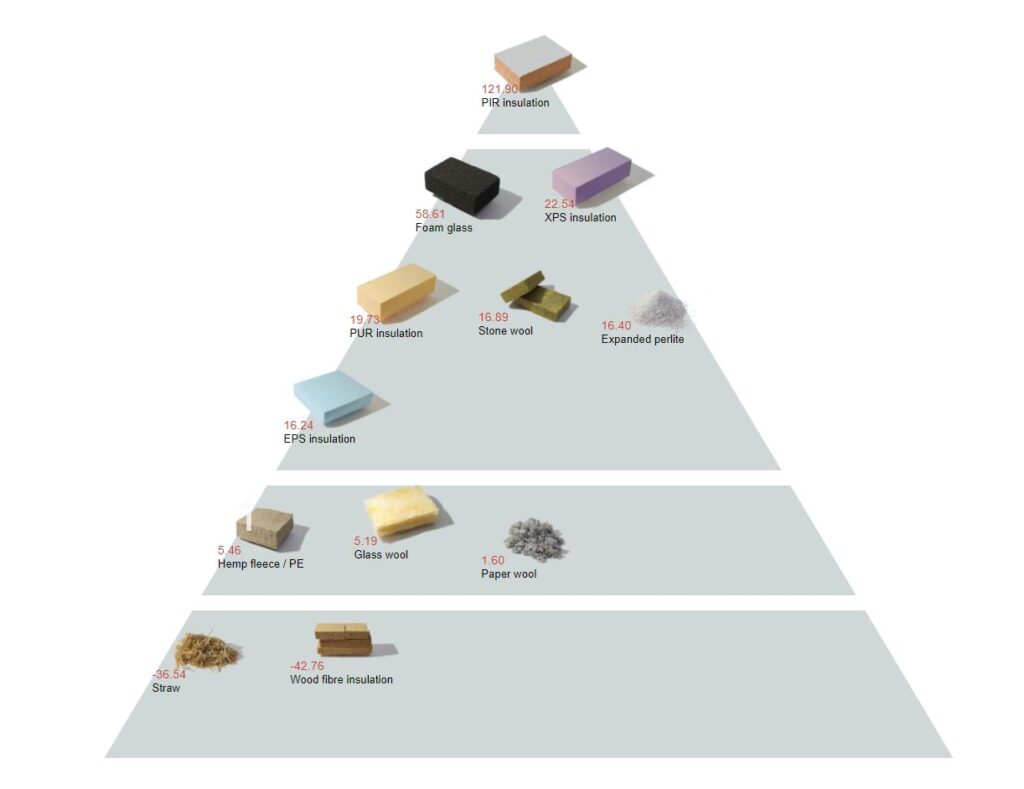 The Construction Material Pyramid
Idea/Copyright: CINARK – Centre for Industrialised Architecture, The Royal Danish Academy – Architecture, Design, Conservation
CINARK owns all the rights to the Construction Material Pyramid – including all copyrights.
Image rights: CINARK (Julie Zepernick Jensen)
"The Construction Material Pyramid" is made freely available and its use is without responsibility for CINARK/The Royal Danish Academy and Vandkunsten.
© CINARK/The Royal Danish Academy and Vandkunsten Architects.